https://virtualizationreview.com/articles/2017/06/06/trends-report.aspx
Also, cloud spending is creeping up on traditional datacenter spending, and top player AWS is being chased by faster-growing competitors.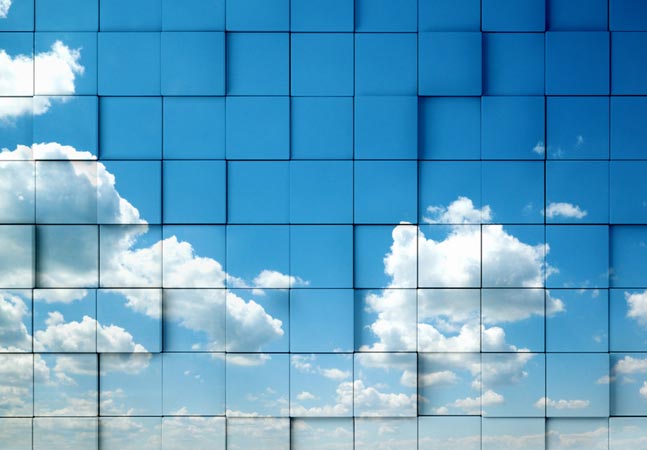 The latest Internet Trends report from Mary Meeker contains a section devoted to the cloud, finding increasing enterprise concerns about cloud provider lock-in, for example. While the report didn't say so itself, that finding might be problematic for cloud providers, including industry leader Amazon Web Services Inc. (AWS).
Besides that concern, the comprehensive and much-watched annual Internet Trends 2017 report painted a rosy picture for cloud computing in general and AWS specifically. The report cited the increasing trend of cloud spending creeping up on traditional datacenter spending, for example, and noted AWS is still at the top of the cloud provider industry by a wide margin.
Meeker started her report series way back in 1995 and has continued it since, most recently as an exec at Kleiner Perkins Caufield & Byers. At some 355 pages, the report is light on text and commentary and heavy on data and graphics (borrowing heavily from previously published material from a variety of sources), actually being presented as a slideshow at a conference in addition to a PDF.
Here are some cloud-related tidbits from the latest report, which states enterprise cloud adoption is reaching new heights and creating new opportunities.
Spending
The combined spending on public and private cloud is approaching traditional datacenter spending, the report indicates, drawing on data from research firms IDC and Gartner and CloudHealth.
Cloud spending has steadily increased from 25 percent of IT infrastructure spend in 2013 to 37 percent in 2016, while traditional datacenter spending has conversely decreased by about 4 or 5 percent each year.
Furthermore, since 2014, the report says, cloud spending has increased by 37 percent to a total of $36 billion.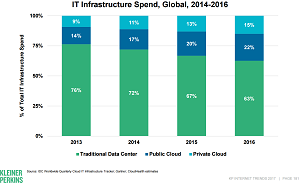 Public Cloud Adoption Trends
The key takeaway here — as in several other similar studies — is that AWS is maintaining its industry lead, but competitors Microsoft Azure and Google Cloud Platform are chasing it. Along with IBM, those competitors saw increases in the percentage of survey respondents reporting running applications on their platforms from 2016 to 2017, while AWS remained stable — though still far ahead.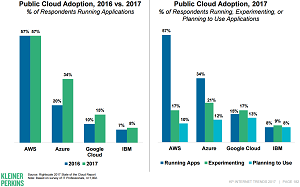 Cloud Concerns
The 2017 report noted a shift in the primary concerns of enterprises about cloud computing from 2012 to 2015. Basically, in that timeframe, the share of survey respondents citing criteria as a top-three concern shows a shift from worries about data security and cost uncertainty to worries about vendor lock-in and compliance/governance issues.
During those four years, the percentage of respondents naming data security as a top-three concern fell from 42 percent to 35 percent. Uncertainty of costs and savings fell from a respondent percentage of 38 percent to 21 percent.
Conversely, compliance/governance respondent percentage grew from 21 percent to 27 percent, while lock-in (the ability to change vendors) grew even more important, going from a respondent percentage of just 7 percent in 2012 to 22 percent in 2015.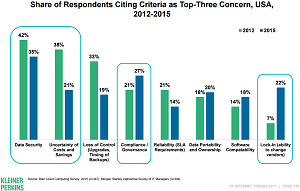 Cloud Evolution/Tools
This area was characterized as paving the way for innovation across the infrastructure landscape.
New methods of software deliver such as APIs and browser extensions create a new wave of capabilities for both companies and end users.
Containers and microservices simplify the development process and provide other benefits, such as reducing the complexity of managing and updating apps and improving the consistency between testing and production environnments.
Elastic analytical databases such as Google BigQuery, Snowflake and AWS Redshift Spectrum are nearly infinitely scalable and are usage based, with minimal maintenance requirements.
Edge computing is pushing compute functionality away from centralized nodes and closer to sources of data. This addresses many IT challenges when running data-centric workloads in the cloud, the report said, while reducing latency and perhaps boosting security and compliance efforts.
Sources for this data include: Lloyd Tabb, Looker founder and CTO; Happiest Minds; Azuqua; TheServerSide; and Forbes.
New Cloud Companies
Finally, the report indicated the emergence of new cloud companies provide elegant and intuitive experiences for end users. Examples include Rubrik (managing data across cloud and on-premises infrastructure); Stripe (processing billions of transactions a year); Looker (empowering data analysis); and CloudHealth (actively managing more than 1.3 million policies globally for hybrid and multi-cloud environments.
In addition to cloud computing, the report covers online advertising, interactive games, healthcare and more.
David Ramel is the editor of Visual Studio Magazine.